Advice NI's award-winning older person's adviser's course, Advantage, is due to begin again soon so book your place to avoid disappointment.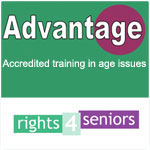 Advice NI has recently expanded and improved our age-related training courses which can benefit learners that are new to the training and those that may have already done some of it via credit for prior learning.
The next run of our scheduled face-to-face training is due to begin with Age Awareness and Working with Older People on the 6th of March 2014.
We have also added further options to our face-to-face learning and now offer Northern Ireland's first and only Level 5 qualification on Age Issues.
This Award is worth 5 Credits at Level 5 on the Qualifications and Credit Framework. Learners who have previously completed elements of our Advantage training can use their work to receive Recognition of Prior Learning towards this award and where applicable, build up modules to the full award. The full qualification requires completion of all six modules.
As always, our award winning range of Advantage Older Persons Adviser Courses is still available via face-to-face learning as single modules (each takes two days) or you can do as many of them as you wish from:
Age Awareness : 6th/13th march
Benefits : 20th/27th march
Pensions: 3rd/10th April
Health : 1st/8th may
Community Care: 15th/22nd may
Housing: 29th May/5th June