Body
Regardless of your financial circumstances, it is always best to plan ahead so you can enjoy what you have.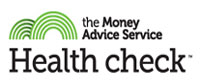 The Money Advice Service has a handy online health check which will help you plan ahead and manage your money better.
By answering some straightforward questions on the health check, you will get you an easy-to-follow personalised action plan which identifies the top three things you can do to make the most of your money right now and to plan for future goals.
The money advice health check should take no longer than 10 minutes to complete. Best of all, it is free and unbiased. The Money Advice Service will not recommend a particular product or provider or try to sell you anything.