Body
Back to top
Mobility and transport is essential, regardless of age.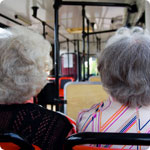 Getting around in later life makes everyday tasks such as shopping, paying bills and going to the doctor that much easier.  Otherwise, you may not be able to maintain social activities or visit family members. These are all simple things that many take for granted and yet those who cannot get out and about are at an immediate disadvantage.
Transport helps you enjoy a better quality of life. It can help combat the feeling of isolation and exclusion. Below are schemes to help you get around - beginning with one that could be yours for FREE! 
The Senior SmartPass
Free travel is available to all seniors who are 65 years or over and resident in Northern Ireland (for at least three months). Translink's Senior SmartPass allows you to travel on any Translink bus or rail service for free. You can even travel to destinations in the Republic of Ireland with a Senior SmartPass.
If you are aged between 60 and 64 and you are a permanent resident of Northern Ireland, then you are eligible for a 60 Plus SmartPass This enables you to be eligible for free travel throughout Northern Ireland.
You may be eligible for a free or half fare concessions if you are registered with a disability. Find out if you are eligible from the NI Direct website.
Translink has an access guide for services across Northern Ireland outlining bus services and routes that are accessible to wheelchairs. This timetable is available at bus stations or alternatively can be obtained by contacting the Translink Contact Centre: 028 90 66 66 30
Back to top
Community Transport Association
Community Transport Association (Northern Ireland) represents a wide variety of operators who provide accessible, door-to-door and group travel services on a not-for-profit basis to:
Older people
People with disabilities
Community groups
These operators cover much of Northern Ireland, both rural and urban, and therefore provide a convenient and affordable alternative if public transport is not available. The service is particularly useful for people who are less mobile or more isolated.
Related Information
To contact a Community Transport operator call 028 9094 1661 from a landline during office hours or visit their website for further details.  
Back to top
Transport Programme for People with Disabilities
The Transport Programme for People with Disabilities (TPPD) aims to target social need by improving accessibility of public transport to people with disabilities who cannot avail of existing conventional services in Northern Ireland.
Disability Action Transport Scheme (DATS)
Disability Action Transport Scheme (DATS) is a local specialist transport service for people living in towns or cities who find it difficult to use public transport. It used to be known as the door-2-door service.
Shopmobility
These schemes run in some of the main town and city shopping areas. They provide manual and powered wheelchairs and even scooters on loan to those with mobility problems. This gives you greater freedom to shop and use leisure or commercial facilities.  
For further information or to find the scheme nearest to your home, visit the Shopmobility website.
Translink Easibus
This service only operates in Belfast city. It is a local bus services for mobility-impaired customers who live along specified routes who cannot avail of conventional services. Visit the Translink website for more information.
Back to top
Wheelchair Hire
The following is a list of sources of wheelchair hire for people whose needs are of a temporary or occasional nature:
Back to top
Dial-A-Lift
Dial-a-Lift
services are operated by local community transport operators, they may be used for a variety of purposes including:
Shopping or personal business
Some local health services
Local pharmacy
Post office or banking
Training and employment
Visiting friends and family
Back to top