Body
A care home is an establishment which provides accommodation with personal or nursing care.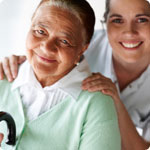 Care homes can be a big relief if you are struggling to cope in your own home or you feel isolated. Nevertheless, you not have to move into a care home even if it is suggested by social services following a care assessment.
All care homes should be able to provide help with personal care, such as washing, dressing bathing and using the toilet, if required. Other services provided in a care home should include physical and emotional care, staff available 24 hours a day and care through short-term illnesses.
However, if you are extremely frail, have a debilitating medical condition or an illness that requires a lot of care from a medical professional, you may need a nursing care home which provides nursing care as well as personal care. Nursing homes have qualified nurses on duty 24 hours a day.
Specialist Care
Specialist care homes are also available to care for people with a particular disability or need. For example, Elderly Mentally Infirm (EMI) care homes are available for older people with mental health difficulties or mental frailty. These provide specialist care for those with a mental illness or disorder.
Some care homes specialize in certain conditions such as treating people with dementia. Specialist care homes usually have specially trained staff and adapted facilities to support people with specific needs.