Body
Back to top
The Old State Retirement Pension (SRP) from the State for those who reach pension age before 6th April 2016.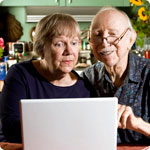 The amount of State Pension that you receive varies, depending upon certain qualifying conditions such as your national insurance contributions and how much SRP you have "built up" over your life.
There are two main types related to the Old State Pension: contributory and non-contributory.
The two categories of contributory retirement pension are:
Category A - based on your own National Insurance contributions
Category B - dependent on the contributions paid by a spouse/civil partner
The two categories of non-contributory retirement pension are:
Category C - There are only a small number of (if any) Category C cases still in payment
Category D - Over 80's pension
Back to top
State Pension Age
From April 2010, the pension age for women began to increase from 60 to 65 years of age to match the pension age of men.
The State Pension Age will then increase for both men and women. Visit NI Direct for further details.
Calculate your pension age
The Pension Age Calculator on the government services website, Directgov, is the easiest way to estimate when you can expect to reach state retirement age.  Remember if you reach retirement age after 6th April 2016 your Pension falls under the New system.
Back to top
How much is State Retirement Pension?
In 2023 - 2024, the full old basic State Pension is £156.20 a week. 
Please note, your individual circumstances may affect the amount you get and additional amounts can be added for dependents. 
Back to top
Your choices if you have reached State Pension Age
You may have decided to continue working after reaching State Pension Age. There are still options available to you regarding your pension  State Pension Age:
 All the information contained on this page is for individuals who reached State Pension Age before 6th April 2016.
Back to top