Body
As you get older, your care needs may change and all care services provided to you will be dependent upon these needs.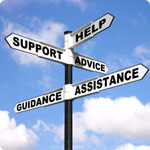 If you have specific needs and you require daily help, you will be entitled to community care services.
These needs may arise through illness, physical or mental disability or from a dependency which has developed over a length of time in institutional care.
This section will allow you to sample the range of services that can make your later life easier. Your accommodation may need adaptations or a simple piece of equipment may be all you require. Otherwise, you may need support with everyday tasks and even require specialist nursing care.
Provision of services
These services may be provided by Health and Social Services Trusts, by voluntary organisations, or by private companies.
You will have your own individual needs and will not necessarily require all the services which the Trusts are under a duty to provide. However, as a result of their statutory duties and other obligations, it is expected that Trusts will make the following range of services available to you if you are in need of community care services:
As explained, service provision will depend on your needs. Therefore, for you to access services through the Health and Social Services Trust, a care assessment will be required to establish the nature of your care needs as well as the necessary support and help required.
Please Note
Assessment may be regarded as a service in itself if you have a disability or your carer specifically requests it.