Body
Back to top
The New State Retirement Pension (SRP)  for those who reach pension age after 6th April 2016.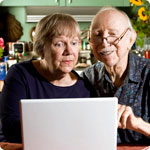 The amount you can get varies, dependent upon certain qualifying conditions and how much contributions you have "built up" over your life. It may be a regular income for the rest of your life but it may not be enough to help you sustain the quality of life you have made for yourself. That is why retirement planning is essential and this section will get you started.
The single-tier pension will be based on individual qualification; individuals will not be able to inherit pensions from their spouse/partner under the new scheme. There will however be transitional protection for those who have contributions under the current scheme.
Back to top
State Pension Age
State Pension Age is changing, the current State Pension Age is 65 for men born before 6 December 1953 and, between 60 and 65 for women born after 5 April 1950 and before 6 December 1953.
The Pension age of a woman has been increasing over the last few years and from November 2018 is in line with men. Both the pension age of men and women will rise to 68 as follows;
66 between November 2018 and October 2020
67 between 2026 and 2028
68between 2044 and 2046.
People born after 5 April 1961 but before 6 April 1969 will have a State Pension age of 67.
Visit NI Direct for further details.
Calculate your pension age
The Pension Age Calculator on the government services website, Directgov, is the easiest way to estimate when you can expect to reach state retirement age.
Back to top
How much is State Retirement Pension?
In 2023 - 2024, the full New State Pension is £203.85 per week. If you have made National Insurance contributions or received credits before 6 April 2016 and reach State Pension age on or after 6 April 2016, 35 qualifying years may not give you this amount as your State Pension due to transitional protection.  
Back to top
Your choices if you have reached State Pension Age
You may decide to continue working after reaching State Pension Age. There are options available to you regarding your pension  State Pension Age:
Further Information
Due to the changes, NI Direct have published a booklet with further information.
For detailed information, contact the Pension Service directly on 0808 100 2658.
Back to top